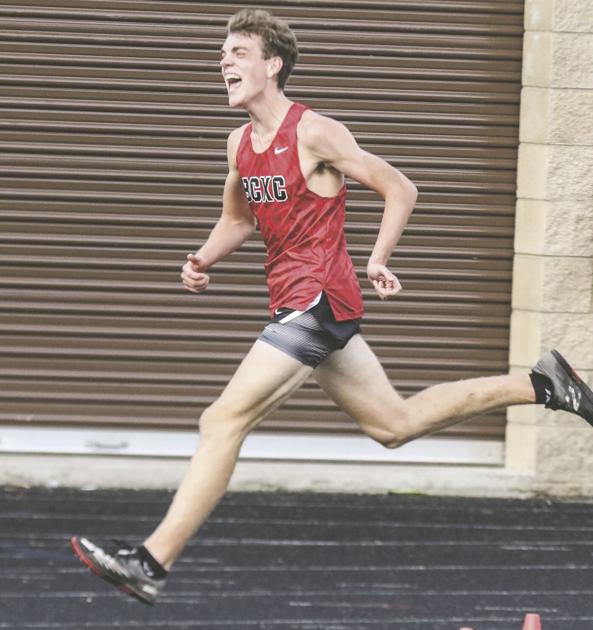 Staying on the fast lane: Terrill finds rhythm as an athlete in two sports, pursuing more ambitious goals in final season | Sports
CANNONSBURG Dalton Nunn started strong from the start, but his lead was short-lived.
The Taylor County runner saw plenty of the outdoors on an overcast day at the Kentucky Track Complex. Nunn retained the advantage in the first round of the 800 meters at the state competition on June 11.
He didn't want to check his rearview mirror. His closest competitor was stalking him, and this Lion would not be tamed.
JB Terrill waited for his moment to knock. The senior's long stride began to show and he sprinted past Dunn to start the 400 final.
The margin kept growing and any idea from the rest of the field about becoming a state champion faded into distant memory.
Terrill won the race by three seconds and finished with a time of 1: 54.25. It was the second fastest time in the history of the event. He missed the Class 2A state record by 19 hundredths of a second.
The Boyd County elder considered his championship run before reaching the start line.
"At the start of the day, I looked at the state records for Class 2A," Terrill said. "You obviously want to shoot for something crazy like that. I wanted to try and see if I could do it. I knew I had to go out there and try to win and be called the state champion.
"The whole year was reduced to this one race," he added. "Doing what a lot of people will never know is amazing. I am very grateful to all of my coaches and teammates for helping me get there.
Boyd County track and cross and cross country coach Becca Chaney said Terrill's preparation and tenacity on the course set him apart.
"That's what makes him great," Chaney said. "It's just the way it is. He has that mindset. There aren't many children who scare him. There are kids where he said, "I know what he's running. He doesn't let himself be intimidated. When the gun goes off, he chases after him. You don't teach that. They just do it. JB is one of those people.
Terrill executes a dream, and in the process, the competition pursues him.
On the right track
Terrill started running cross country and track and field in fourth grade.
Chaney arrived in Boyd County in 2014 and began coaching elementary cross country. Some of the senior Lions this season, including Terrill, started under his tutelage.
It didn't take long for him to notice a runner growing in talent and stature.
"In his seventh year, he was part of the top seven regional teams with Grant Chaffin," said Chaney. "I had an idea at that point that this kid might be something. After that he grew like a foot. Her legs are so long. Sometimes you look at him and it seems like he doesn't even try. Then you look at the clock and say, oh my god, it's really moving.
Terrill developed a love for competitive racing from an early age. He said cross country and track each present their own challenges and rewards.
Terrill joined the varsity team in college and learned what it takes to be a champion from his predecessors.
"I started the elementary school track and field event doing the 40-yard sprint," said Terrill. "One of the secretaries at our school told me I should try cross-country skiing. Becca has been my trainer ever since.
"It was a great experience. Grant, Gavin (Brock) and I learned the ropes from the team with the older guys. Once they graduated we were able to step in and take control."
The list of Lions models is impressive. The Daily Independent All-Area Runner of the Year has become a fixture in Cannonsburg. Boyd County has won the last seven for the cross country. Terrill won the last two.
Every athlete has helped the program achieve success at the state level.
"He's a very fluid runner," Chaney said of Terrill. "He has developed this over the years with his strength and size. We watched him when he was a freshman and sophomore in high school and we thought he had something there.
"You can see what he must have admired," she continued. "Elijah Miller and Isaiah Caperton – he also had these guys chasing after. These guys helped him develop just as much as he developed himself. He's just as competitive as these kids. He arrived just at the right time.
Chaney said that Terrill is a student of the sport. He knows who he is running against and what he will face on the course.
"He studies his races and he studies his sport," she said. "He's obviously working hard in training."
Once the race begins, Terrill settles down and focuses on what he does best.
"A lot of times I go out and run," Terrill said. "I know it sounds super simple, but I try not to think about it too much. You can get bogged down in the little details, where if you go out and do your run you usually do pretty well.
Not just for the kicks
Terrill does not have a lot of free time during the fall sports season. He divides his time between the cross-country ski course and the football field.
It doesn't surprise anyone that he is good at both. Boyd County football coach Logan Price attributes it to his work ethic.
"I never have to wonder where it is," Price said. "If he's not here with us he's cross country and Becca thinks the same. Children want to play several sports, but I don't think they really know what it takes, especially at a high level. He really marked the student-athletes who want to do the same.
"It takes a work ethic and huge sacrifices," he continued. "It's the thing that stays with me when you think about what he's giving up." You can only go to high school once. He wants to be part of the team.
Chaney said the trio have developed a game plan that keeps Terrill from overworking himself. She asks Terrill to watch her steps during her double duty.
"At first it was trial and error," said Chaney. "He would run 7 miles, then he would go to soccer practice. Last year, as we drove these long miles, I was like, 'What do you get in football training? He was looking at his watch to see (how many miles) he had run in football training, and we canceled it in cross country training.
A cross-country practice is followed by a few hours on the football field. Terrill believes the two sports complement each other. Running had an impact on his other business.
Terrill is usually the fastest player on the pitch, but Price worked with the attacker to slow the game down and let the game come to him.
"He put pressure on the goalie (opponent) by saying, 'All I need is a foot of space,'" said Price, "" and I will put one in. back of the net. "He's also more consistent this year."
The eldest started his football career as a defender. Price and his assistant coaches quickly realized that his talents belonged to the other end of the field.
Terrill leads the Lions with 18 goals in a semi-state second round game tonight at Paul Laurence Dunbar.
"I have a lot of stamina," Terrill said. "It helps me. It helps me stay on the pitch the whole game. Even when I sprint on the field, I can always come back to defense. I am ready to go. I think cross country gives me 80 minutes of football. "
Terrell's leadership style grew alongside his skill level. Price said he realized he had a voice and wanted him to use it more often. It has an impact.
"I had a conversation with my assistant coach after the East Carter game (Sept. 9)," said Price. "It was about the leadership that he's starting to show. It's been there. I don't know if JB realizes how much his voice can affect others.
"He's been playing football for a long time with the guys," he added. "Maybe he took an opportunity to speak. He spoke to (a recent game) and he got everyone's attention. It really helped us. "
State of mind
Terrill was a major contributor to the Boyd County Running Program. The Lions have won several regional titles and finished second in state cross country competition in 2018 and 2019. He was part of the 4×800-meter relay team that included Brock, Chaffin and Hudson Cox who finished third in the state track competition in Lexington and achieved his best time of the year.
Chaney knew how much Terrill wanted to win the 800m championship. The sprinter also qualified to run the mile, but the coach thought it would be prudent to reduce the workload that day.
"I said, I don't think you should be doing both," Chaney said. "He was scratched in the mile. I was so nervous about this decision we made. Then he ran the 800 meters and killed everyone. It was the right decision. It was the right thing to do to achieve this solid victory. I don't know if he and his parents knew how nervous I was about getting him out of the mile. They kept saying it was the right call.
Terrill still has some goals to reach as he does his final rounds of high school. He's already got one. He broke the 16-minute mark when he won the KOVCCT competition on September 19. He wants to finish strong and run the mile at State next spring.
"The start of the season hasn't started exactly the way I wanted it to," said Terrill, "but by the end of the year I hope to be able to turn the tide. I want to go to State to track and repeat for 800 meters. I also want to get this kilometer.
Terrill has not yet made his university choice. He wants to run cross country and track to the next level. He plans to specialize in engineering.
Success has not changed Terrill. He sets the bar high on and off the playing field, according to his soccer coach.
"You could say that as a state champion, there could be a fine line between being arrogant and arrogant," Price said. "He's none of those things. He's the same JB before the state championship that he is now. He is so grounded. He's still trying to be a better leader tomorrow than he was today. It's his state of mind.
(606) 326-2654 |