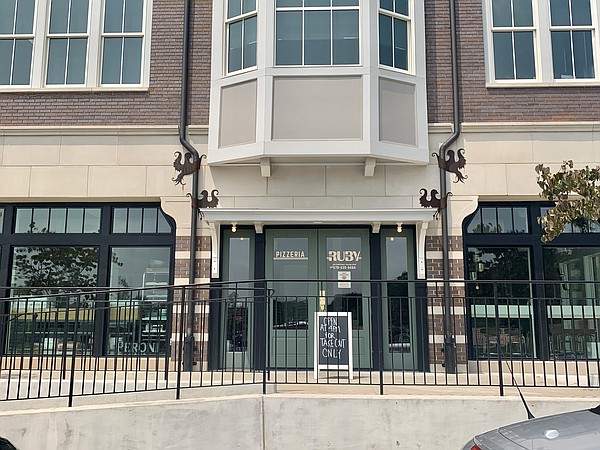 Let's eat | The Persephone on Wheels duo opens a pizzeria; Grub's, Flying Burger closes in Fayetteville
Ruby Pizzeria opened last month near Johnson.
The new pizzeria, located at 5519 Hackett Rd in Springdale, features pizza, pasta and salads from chef Michael Robertshaw and Meredith Butler, the duo behind popular Mediterranean food truck Persephonē on Wheels.
"The pandemic has put Persephonē on ice. We continue to search for the right space for it. But we have some exciting news in the meantime!" the food truck announced in a social media post earlier this summer. "We've been working on something that we can't wait to share with you! Our first brick and mortar restaurant, Pizzeria Ruby! "
In addition to pizza, children's specials, ice cream, house cocktails and a selection of beers and wines are also available, according to its website.
Customers can stop by the restaurant for a slice between 4 p.m. and 10 p.m. Tuesday to Friday and 4 p.m. to 11 p.m. on Saturday.
The restaurant spent earlier this week offering take-out, but not indoor dining, due to the recent increase in covid-19 cases and hospitalizations in the area.
"We would love to see how everything goes this week," the restaurant said in a social media post. "We will be reviewing our operations, table spacing, etc. to make sure we reopen meals inside in the safest way possible."
Plans to extend her hours to serve lunch are in the works, according to social media posts.
For more information on the menu, visit pizzeriaruby.com/menu.
---
A development plan for Bars on foot northwest of Wedington Drive and Interstate 49 was approved on July 12 by the Fayetteville Planning Commission.
The Louisiana chain's website lists Fayetteville as an "upcoming" location.
Walk-Ons has branches in Rogers, Fort Smith and Conway.
Read the Cajun-style sports bar menu on walk-ons.com/assets/uploads/documents/02-2021_MainMenu_Master_L.pdf.
---
Grub's Bar & Grill closed its Uptown Fayetteville store last month after 10 years in business.
Sports bar at 3467 N. Shiloh Dr. said its restaurants in downtown Fayetteville and Rogers will remain open in a July 21 post on social media.
"While we don't have a new home for Uptown at the moment, we hope to find one soon," the post said. "A huge thank you to customers for your support over the years. You have been amazing."
---
Flying burger and seafood also closed its Fayetteville branch.
"We have permanently closed our location due to covid-19", the restaurant at 4280 Martin Luther King Blvd. near Farmington announced in a July 27 social media post. "Thank you to our customers for all of your support throughout this difficult time."
---
Do you know of any recent restaurant openings or closings in Northwest Arkansas? Write to us at [email protected]