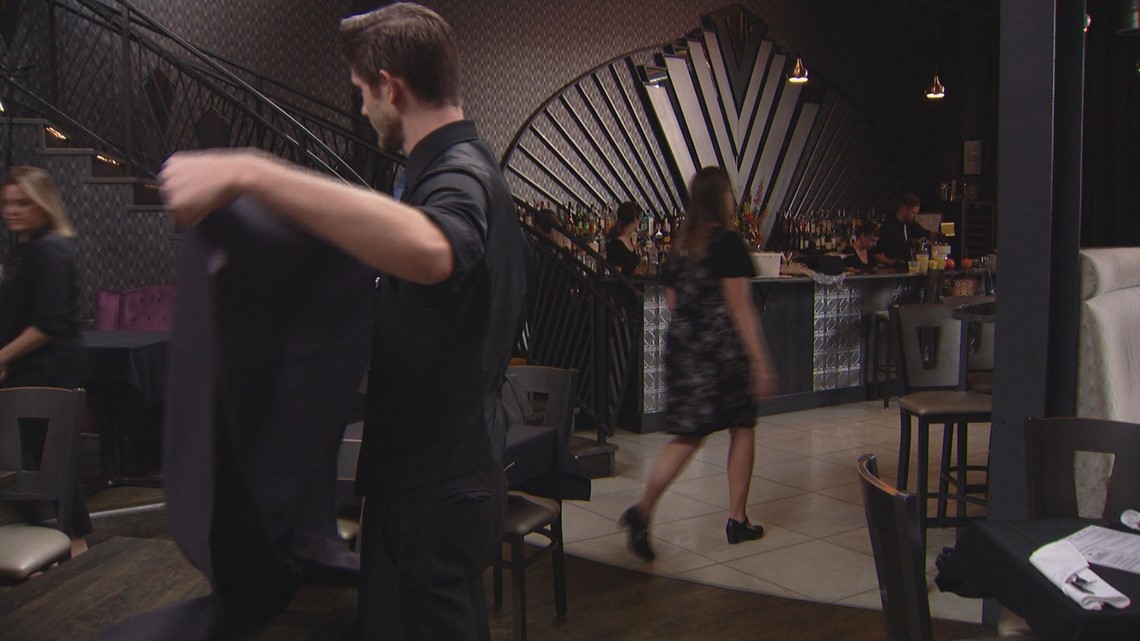 Colorado restaurants offer new perks to attract workers
A Colorado Restaurant Association survey found that 9 in 10 restaurants have changed their business practices or increased wages to hire and retain more staff.
While the job market remains tight, Colorado restaurants are getting creative.
A new survey from the Colorado Restaurant Association (CRA) has revealed industry-wide trends as employers struggle to hire workers or keep those they already have on their staff.
The CRA survey, compiled from July 8 to August 9, found:
9 out of 10 restaurants have changed their business practices or wage rates to increase hiring and retention.
1 in 4 restaurants offers retention or hiring bonuses.
Over 23% of restaurants added benefits to their compensation plans like paid time off (38%), medical insurance (31%), dental insurance (22%), and vision insurance (18%).
Other benefits offered include pension plans, educational assistance, and health and wellness programs.
Nicole Matteson owns the Nocturne Jazz and Supper Club in Denver's River North neighborhood, where even before the pandemic, its full-time employees were offered benefits such as health insurance.
Now she says she's adding more incentives.
"We now give 2% of our food income back to our culinary team," she said. "So they feel like they're absorbed in those really busy nights, or the nights when we maybe didn't have enough staff and maybe only 2 people got their butts kicked there- low.
"And they have the opportunity to share some of that income and be rewarded for that hard work," Matteson said. "And a really different change for us to take them from a not-so-well paid job to an opportunity to share in the restaurant's success."
RELATED: Survey: Most Colorado Restaurants Struggle to Hire Workers
Matteson said owning a restaurant throughout the pandemic has been a lesson in adaptability. In dealing with staff shortages, she said the trick was to strike a balance – what can they offer now but also support in the long term?
"It was a hard thing to figure out, and it comes down to the adaptability of taking a look at your books, not just in the last few months but the last few years," she said. "What would it have meant if we had done this in 2018 or 2019? And finding the right place where we were able to consistently reward people, but also be able to be in 5, 6 or even 10 years, and keep going to pay these people. "
"What the whole pandemic has done is force restaurants to really take a look at the way they do business," said Sonia Riggs, president and CEO of the CRA.
"They've changed some of their compensation models," Riggs said. "We've seen restaurants start adding benefits, giving extra time off, supporting employee mental health. They're really trying to be as creative as possible to attract and retain the right people.
Matteson said her culinary team is now fully staffed, but still has a few open positions on her service team. The most difficult part of the pandemic, in terms of personnel, was back in the spring, while trying to increase capacity again as the city allowed but not having enough personnel to open their doors so quickly, she declared.
RELATED: Need a Job? Almost All Colorado Restaurants Are Hiring Right Now
She was quick to thank her team for their support and hard work throughout the pandemic.
"Kudos to my team for hanging out with us all this time and for really putting their best efforts, their best energy, being there for each other," she said.
"Even when we were short they still managed to get by and do the extra work, worked the extra days," she said. "Sometimes that meant a really long week and some overtime, but they're still there and still having a good time serving people.
The CRA's summer investigation also analyzed other economic impacts of COVID-19 on the restaurant industry, including the new debt burden.
RELATED: The Struggle To Hire Staff As Bars And Restaurants Add Hours And Capacity At The Same Time
RELATED: Tens of Thousands of Coloradans on the verge of losing their unemployment benefits amid pandemic
SUGGESTED VIDEOS: Latest from 9NEWS